Shelanagig has since mutated into many other projects, but we don't consider the company to be finished. Some day we will revive the old freak show girl ways, dig out extra limbs, platform boots and laddered fishnets... maybe we'll leave the fun-fur pan shorts and rubber toad costume though...
Shelanagig thanks the following people who aided and abetted the insanity. I'm sure I have forgotten some, those days where long ago and hazy.
La Vielle Vallette massive, you don't like thanks but what would we do with out you? Alberto/Paco and El Paso, Torino, also the late great Kachina, Torino; Kasa de la Muntanya, Barcelona and La Paloma ocupa and countless other squats and social centres across Europe, viva! Laurant and Traumatism; Ainsley and Claire in Andalusia; the lovely Ted; Alan and the residents of the slope, Amsterdam, and the angel in white overalls for helping us fix Thomasina the tiny trailer; Rise Phoenix; D.N.A puppets who got us one of our first gigs in Blackpool; Wheatstone house collective; Alice Maschler, who took many of these pictures; Elinor the porus walrus; Mr. Richnofski Chesticofski...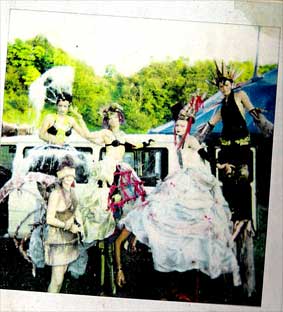 At the Eclipse Festival Hungary 1999. On stilts left to right: Siobhan, Angela, Miranda, Claire. Monique on the ground.